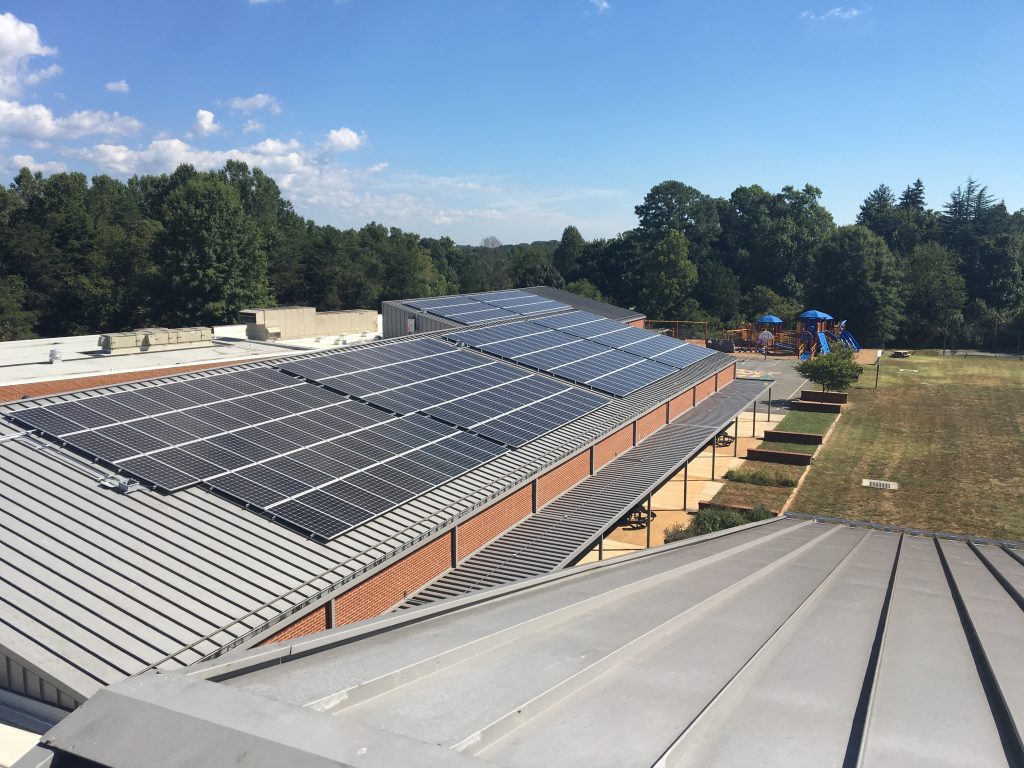 Helping You Get the Maximum Financial Benefit from Rooftop Solar
More is better, especially when it comes to solar power, right?
We love solar power and want every school, hospital or business to enjoy the financial and ecological benefits of generating their own clean energy right on site.
But sometimes when it comes to the size of a solar array, less can actually be more. Depending on your situation, there's an optimal number of solar panels to get the most savings.
If you put up too few panels, you'll be leaving money on the table. But if you install too many solar panels, you'll pass the point of diminishing returns – and you could actually be losing money.
Getting the size right on a solar energy system is tricky business.
For most customers, the right amount of solar is the minimum number of panels that will give you the maximum amount of savings. That's why we pioneered Right-Sizing Solar™, a proprietary system to determine the optimal size for your on-site solar arrays.
Commercial electricity rate structures with a "demand" charge offer additional opportunities to save money with solar panels. But only if you have a holistic strategy that considers the number of solar panels along with total power demand, peak and seasonal usage and other factors.
Buy Solar Power, Not Solar Panels
If you buy your own solar panels, it's clear why you wouldn't want to get more than you need. The more equipment you buy, the higher the cost.
But what if you get solar installed on site with no upfront capital cost through a power purchase agreement (PPA)?
In that case, you might assume that since the solar company that installs your solar array will continue to own it, it doesn't matter to you how many panels they use. It just matters what rate they charge you for solar power. But if you thought that, you'd be wrong.
It's true that under a PPA you don't pay for solar panels upfront because your solar company buys and owns the panels at your location. But, if they overbuild your solar power system, you will still suffer a financial penalty. The company will pass along the extra costs to you by charging you for power you don't need, thus reducing your effective savings. In this case, less is more.
And even a few kilowatts overbuilt can add up to big costs over the 25-30 year term typical for a PPA, as the graphic below illustrates. You could be locked in for two or three decades to costs that are higher than they should be.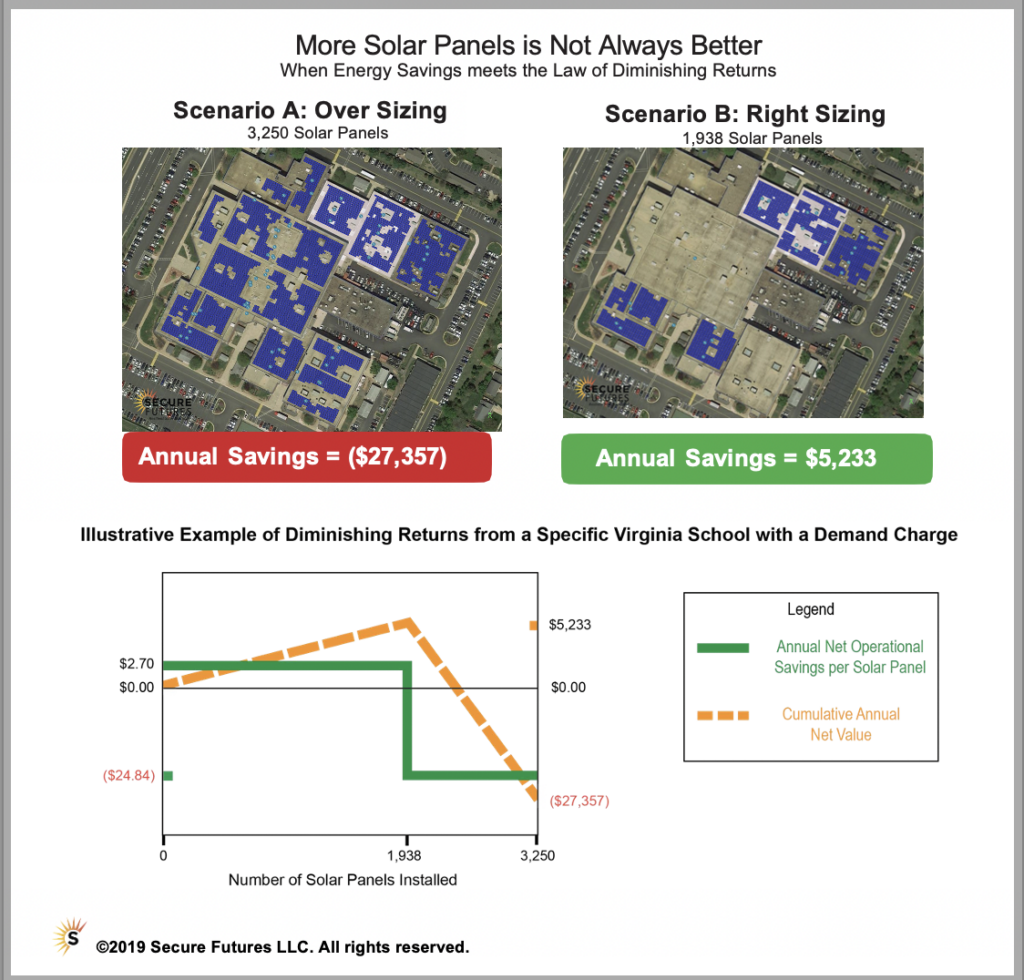 Getting the Right Size Solar Energy System for Your Needs
Many solar companies, especially so-called solar EPCs (engineering, procurement and construction), can have dozens of solar installers on their payroll. These companies don't want their workers sitting around idle while they're on the clock. Such a company has an incentive to sell you the maximum amount of panels to cover your roof, because a bigger sale will keep more of their installers busy. But that's not necessarily what's best for you.
That's not how we work at Secure Futures. As a stand-alone solar developer, we don't have an army of solar installers on the payroll just waiting for the next job to come along. Instead, when we have a new customer project, we hire trusted solar installation contractors to put up the equipment.
In this way, our financial incentive is aligned with our customers' finances. We do well when we help our customers save the most money.
We strive to offer our customers the best value, and not necessarily the most solar panels. We call this buying solar power, not solar panels. That's why we developed Right-Sizing Solar™ to best determine the size of solar energy system that will optimize your money savings.
Right-Sizing Solar™ has three components:
Electricity analysis based on actual electric bills, peak demand analysis, and utility tariff rates
System design, including physical layout on roof structures to minimize shading, provide safe access to all solar modules, and to maximize peak demand shaving
Economic design, including our proprietary approach to Right-Sizing Solar™ that builds on empirically-proven models for peak demand shaving with solar arrays
After we perform these steps, you may find that we will recommend installing fewer solar panels than your roof might allow in order to save you more money per panel.
Along with white-glove customer service, Right-Sizing Solar™ is a big reason why customers choose our proposals over the competition. And it's why so many of our customers come back to us for a second or third round of solar projects.
Rooftop solar power offers three-fold financial benefits to customers, which our Right-Sizing Solar™ methodology can help quantify:
Contributing to energy over time, measured in kilowatt hours (kWh)
Peak power reduction (sometimes referred to as "demand shaving") measured in kilowatts (kW)
Clean energy jobs in the local economy, measured in dollars ($)
For commercial customers, the kilowatt reduction can represent as much as 55% of the electric bill if they are on a "demand tariff" that penalizes commercial electric customers for excessive use of power, or kilowatts, and it thus presents significant savings opportunities for our solar customers.
Learn more about how Right-Sizing Solar™ can help you maximize the financial and ecological benefit of going solar on site.