Jun 27, 2019
2 Ways for Virginia Schools to Get Solar on Campus without Buying Solar Panels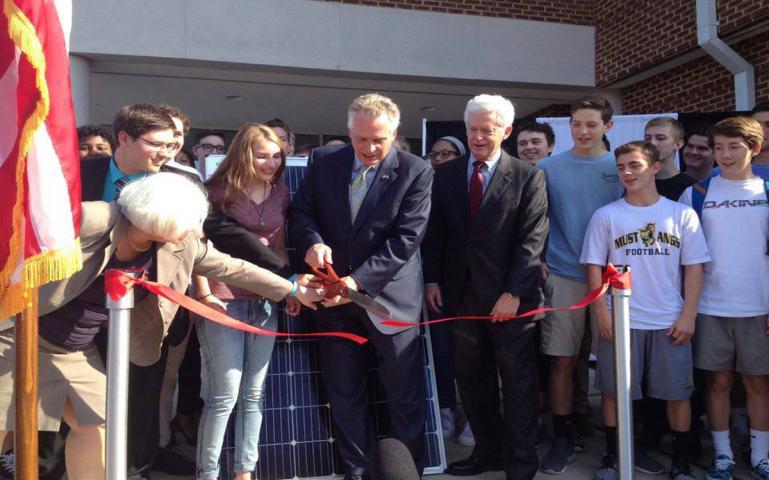 Option 1: Dominion Energy "Solar for Students" Program
In 2015, Dominion Energy and the National Energy Education Development (NEED) Project developed the Solar for Students program for Virginia schools and STEM-related educational organizations. They are currently taking applications from qualifying schools and STEM programs to receive a solar photovoltaic panel through a $250,000 grant.
Winning schools get a 1.2 kilowatt photovoltaic system, which Dominion refers to as "solar on a stick." It generates enough power for:
15 desktop computers
OR (33) 10-gallon aquariums
OR three 42-inch plasma televisions
The program is accepting applications this summer for eight schools to receive their own demonstration Solar on a Stick, as well as curriculum training for teachers, energy monitoring in the school, and a solar launch event.
Option 2: Power Purchase Agreement with Secure Futures
Another option that doesn't require an upfront investment in equipment is a Power Purchase Agreement (PPA) with Secure Futures. This option allows schools to install solar energy on campus without having to buy their own solar panels. There are no upfront equipment costs and no operation or maintenance costs for the school.
Like the Solar for Schools program, installing the photovoltaic system costs the schools nothing to buy solar panels. The difference is that while Dominion will donate a solar 1.2 kilowatt PV panel, we will install a megawatt (that's a thousand kilowatts) or more of solar panels.
Dominion's solar installation is provided through a grant, so it's an easy way to get a solar panel for demonstration purposes.
In a power purchase agreement, a school won't have to pay to have solar panels installed on campus, but the school will pay to use the power that its panels produce. Of course, the school would be paying for electricity from their utility anyway. Using solar will cut that utility bill because the rate a school pays for 100% green solar power will be lower than what they now pay for "brown" (mostly dirty) power from the electric grid.
The good news is that both programs allow a school to go solar for no equipment cost. The catch is that one program produces 1000 times more power for your school system.
And if you work at a school, would you rather have your free photovoltaic system produce enough power for 15 computers, or 15,000? Do you want clean power for 3 TVs, or 3,000?
We are confident that once Virginia school systems out there do the math, they'll see the difference.
With a power purchase agreement, schools can really brag that they've "gone green" because they're using enough solar power to make a difference.
Our PPA contract also provides the same benefits that the Solar for Schools program provides, which include:
NEED Project curriculum materials and training for teachers*
Energy monitoring services for in-classroom use
Solar launch events for our schools
* (In fact, our company started offering curriculum assistance from NEED before Dominion did. We're glad that they've followed our example).
Weighing the Pros and Cons
The advantage of the Solar for Schools program is that the power the 1.2 kilowatt panel produces is free. Yes, that means you can power 15 computers within your school district for FREE…
Everybody likes free.
The disadvantage of the Solar for Schools program is that it doesn't generate any real savings on your electric bill. Yes, you can power 15 laptops for free….but what will that save you, maybe $5 a month? That's not enough to buy a smoothie these days.
By comparison, getting solar power through a PPA can generate big savings over 20 years of solar power production. For example, Richmond Public Schools will save $2 million over two decades through a solar PPA with Secure Futures.
So the decision comes down to this – do you want a free solar panel to display for students and visitors to gawk at for a few weeks?
Or, do you want a real solar photovoltaic system that lets you produce real solar power, saves your school real money and awes students, faculty, and guests for years to come?
— Nicole Duimstra, Secure Futures Solar
Make This Your Year to Go Solar
Find out what it would take for your college, school, hospital or business to get solar on-site with no upfront capital investment and money savings every month.