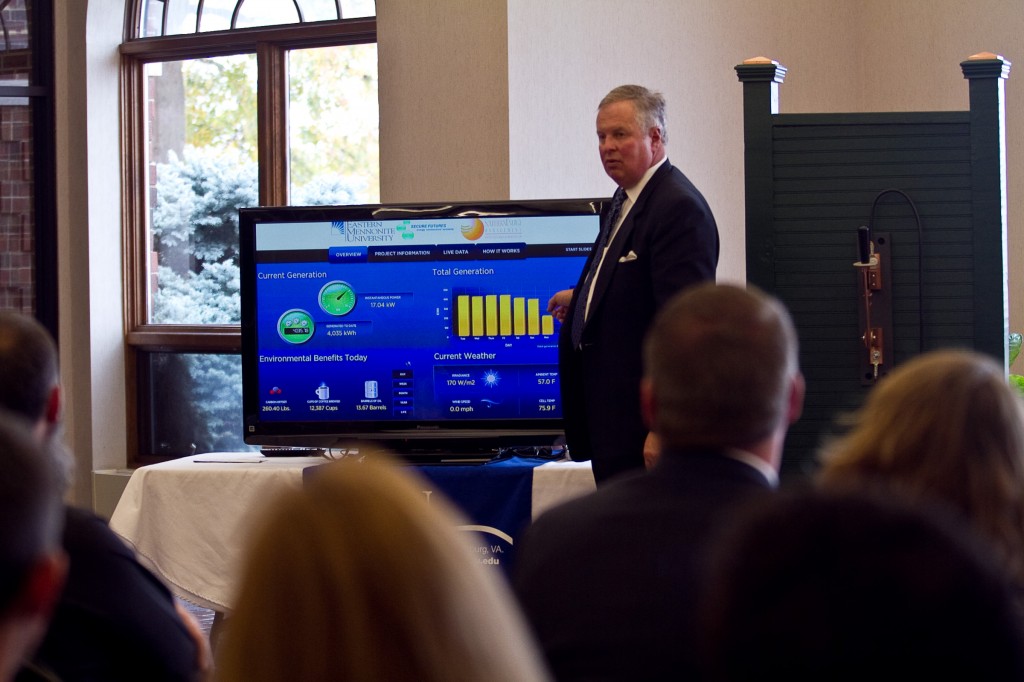 In November, 2010 Secure Solar Futures completed a solar power generation system on the campus of Eastern Mennonite University (EMU) in Harrisonburg, Virginia.
The EMU solar project was the first commercial-scale project in Virginia history, and at the time it went live, was the largest photovoltaic (PV) system of any kind in Virginia. The system incorporates high-efficiency solar panels made in the United States by SunPower, based in California.
The video below offers drone footage of the EMU solar array plus an interview with EMU's Ed Lehman:
Who Funded the Project?
Secure Solar Futures, through a company of local investors, Community Solar, LLC, purchased and owns the solar panels on the EMU campus. EMU hosts the solar facility, and buys electricity generated from the panels at a predetermined price through a power purchase agreement. Using economic stimulus funds provided by the American Recovery and Reinvestment Act (ARRA) of 2009, the Virginia Department of Mines, Minerals and Energy awarded an incentive grant for the project. ARRA funds through the US Treasury 1603 Investment Tax Credit grant also helped finance this project. Community Bank in Staunton, VA provided construction financing for this project.
Who Installed and Maintains the Panels?
The high-efficiency photovoltaic panels were manufactured by SunPower, and were installed by Southern Energy Management, based in North Carolina. SEM provided project engineering services and on-going maintenance and real-time monitoring of the system. The panels were installed throughout Fall 2010.
How Big is the Project?
During peak sunshine conditions, the system generates 104 kilowatts of power. This provides as much as 2% of EMU's peak power consumption. See how much solar energy EMU's system is generating today at the EMU Online Solar Dashboard.
What Does the Project Look Like?
The solar panels are installed on the roof of Hartzler Library and are not visible from ground level, but they can be seen from the balcony of a neighboring building, the EMU Campus Center, or in photos available at EMU's Solar Website.
What Past Projects has the University Undertaken in Energy?
EMU recently installed solar domestic hot water collectors on a new dormitory. This project is the latest in a long history of commitments to energy conservation that grows out of the university's theological commitment to care for creation. There is a growing awareness and integration of sustainability into curriculum and daily life around the campus.
Projected Annual Pollution Savings 104 kW PV Deployment
1,820 lbs
SO2- Sulphur Dioxide – Associated with visible pollution (haze) and acid rain.
3,240 lbs
NOx – Oxides of Nitrogen – One of the main causes of ozone (smog), also associated with acid rain.
20 lbs
PM10 – Particulate matter smaller than 10 microns – associated with lung ailments.
340,800 lbs
CO2 – Carbon Dioxide is a normal atmospheric component. However, increased levels are likely to cause future climate changes.
30 lbs
VOC's – Volatile Organic Compounds – One of the primary causes of ozone (smog), also some of the individual compounds are toxic.
120,000 gals.
Cooling Water Consumption – Because power plants are typically only about 36 percent efficient, they throw off an enormous amount of waste heat.