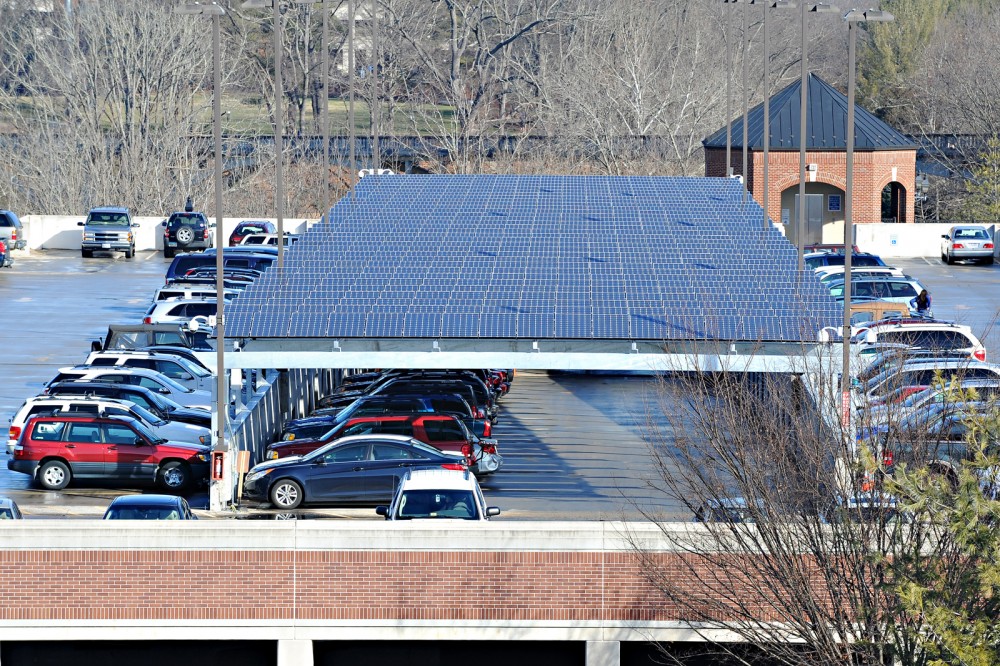 Washington and Lee University in Lexington, Virginia benefits from a 444-kilowatt solar photovoltaic energy system at two locations on campus, producing enough clean energy to power the equivalent of about 450 average American homes.
The School of Law's Lewis Hall hosts 1,016 SunPower solar PV panels with a capacity of 325 kW. A custom-designed steel solar canopy constructed over the university's parking deck supports 540 Sanyo solar PV panels rated at 119 kW. Altogether, both solar arrays hold 1,556 solar panels, all made in the United States.
The project started operations in December of 2011 as the largest solar energy system in the Commonwealth of Virginia. Solar power at W&L represents a natural outgrowth of the University's commitment to environmental sustainability and leadership on energy issues.
Secure Solar Futures initially owned and operated the W&L solar energy system through a 20-year lease agreement with the option to purchase the system in the future. In 2017, after having seen the high performance of the solar array over the previous five years, the university exercised its option to purchase the system from Secure Solar Futures.
Building Community Resilience: American-made Equipment and Local Partners
Johann Zimmerman, structural engineer from Harrisonburg, VA, designed the parking deck steel support structure.
Nick Brash, structural engineer of Lexington, VA reviewed and certified the solar panel roof load for Lewis Hall.
Harman Construction, Inc. of Harrisonburg, VA served as general contractor for installing the parking deck structure.
Liphart Steel in Verona, VA, an employee-owned company, fabricated the steel and erected the steel structure.
The Sanyo solar panels on the parking deck solar canopy, and the SunPower panels on Lewis Hall, are certified American-made products.
All contractors on the project paid wages at or above prevailing (union scale) levels.
How Big is the Project?
During peak sunshine conditions, the system generates 444 kW of power. This provides as much as 3% of W&L's peak power consumption. See how much solar energy W&L's system is generating today at the W&L Online Solar Dashboard.
What Past Projects has the University Undertaken in Energy?
W&L ranks as one of the Sierra Club's Cool Schools for the numerous improvements it has made in energy efficiency and resource conservation to meet its general sustainability goals and its pledges under agreements including the Presidents' Climate Commitment and the Talloires Declaration. To save energy, the university has instituted a temperature regulation policy, has installed energy saving equipment and, in 2010, committed $5 million as part of its Five for Five Project of major overhauls to campus buildings and comfort systems planned to pay for themselves in energy savings within five years.
Projected Annual Pollution Savings 444 kW PV Deployment
7,280 lbs
SO2- Sulphur Dioxide – Associated with visible pollution (haze) and acid rain.
12,960 lbs
NOx – Oxides of Nitrogen – One of the main causes of ozone (smog), also associated with acid rain.
80 lbs
PM10 – Particulate matter smaller than 10 microns – associated with lung ailments.
1.4 million lbs
CO2 – Carbon Dioxide is a normal atmospheric component. However, increased levels are likely to cause future climate changes.
120 lbs
VOC's – Volatile Organic Compounds – One of the primary causes of ozone (smog), also some of the individual compounds are toxic.
480,000 gallons
Cooling Water Consumption – Because power plants are typically only about 36% efficient, they throw off an enormous amount of waste heat.