Dec 22, 2020
Students Present Research on Solar Energy on a National Stage
On December 16th, four high school students who participated in fall 2019 in our classroom program on clean energy, Throwing Solar Shade®, gave presentations in an online event sponsored by the U.S. Department of Energy Solar Decathlon®.
Student presentations shared research findings on topics ranging from heat-island effects in parking lots to the potential benefits of rooftop solar for poultry farms.
The Solar Decathlon is a competition for college and university students to highlight student innovation and leadership in solar energy and energy efficiency. The program includes a component for high schoolers called Student Leaders of Tomorrow. Before the pandemic, both events were set to take place in person at the National Mall in Washington D.C. in June. However, to accommodate stay-at-home orders, the high school presentations were rescheduled as the online forum that took place in December.
The four reports presented by the students were a product of our Throwing Solar Shade® program. It is a semester-long curriculum that began in 2019 in two Virginia public school divisions crossing the urban-rural divide. These were the Richmond Public Schools and Augusta County Schools, located in the Shenandoah Valley.
Developed to be fully compliant with Virginia Standards of Learning, the solar power curriculum was sponsored and co-created by Secure Futures in partnership with the Science Museum of Virginia and the National Energy Education Development (NEED) project.
The December online event featured presentations by four students who participated in the program's pilot semester:
Caroline Miller, Fort Defiance High School, Augusta County, "Maximizing Thermophotovoltaic (TPV) Cell Efficiency"
Sherylynne Crookshanks, Fort Defiance High School, Augusta County, "Paint Before You Park"
Jack Salgado, Open High School, Richmond, "Direct vs. Indirect Bandgap in Solar Panels"
Lauren Rhodes, Fort Defiance High School, Augusta County, "Solar Turkeys: Converting Poultry Houses to Solar Energy"
Urban Heat Island Research in Richmond Sparks TSS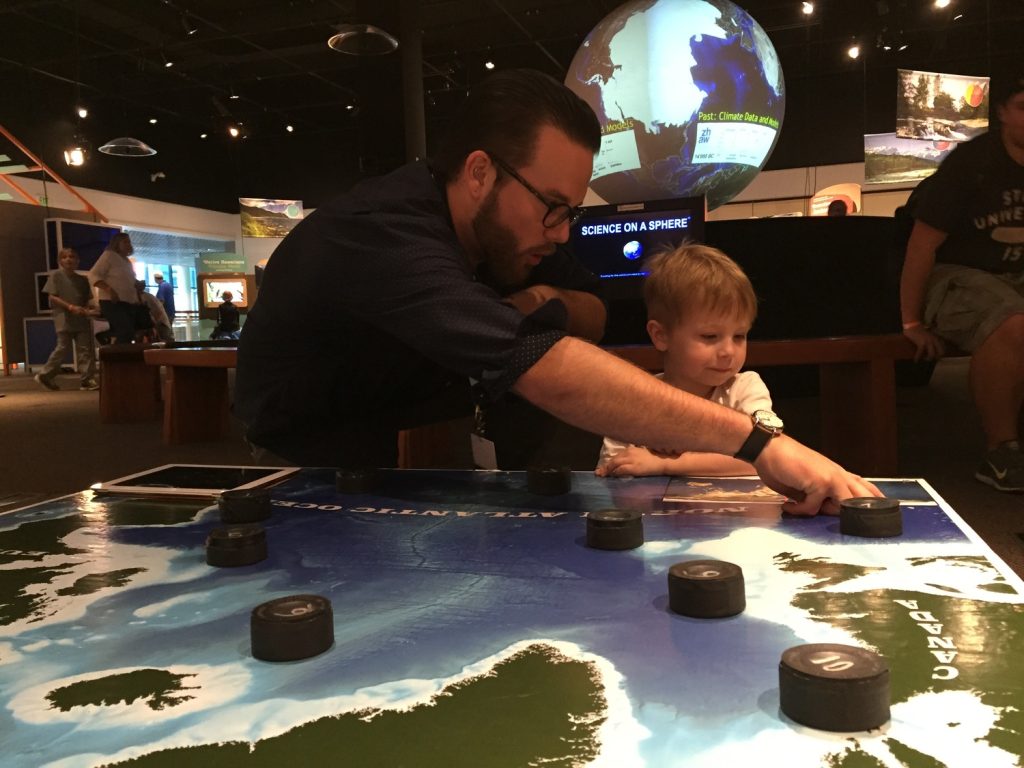 Throwing Solar Shade® builds on the inventive research of Science Museum Chief Scientist Jeremy Hoffman, PhD. Its goal is to study and mitigate the urban heat-island effect in the city of Richmond, Virginia. This prompted a project that Hoffman dubbed Throwing Shade RVA.
The research is a unique example of citizen-science. Under Dr. Hoffman's direction, students from different campuses of Richmond Public Schools identify and study urban heat islands across the city. These are typically neighborhoods with a large amount of asphalt and concrete that heat up in the midday sun but lack shade trees or parks to cool things down.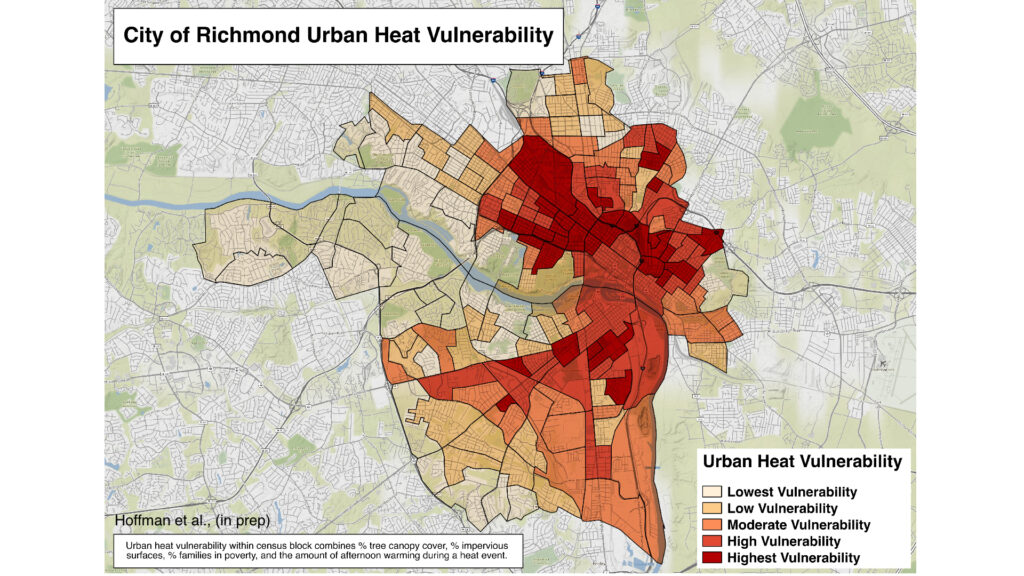 With accelerating climate change, such areas will become more vulnerable to extreme heat waves in the future. Sometimes called the silent or secret killer of climate change, extreme heatwaves get less news coverage than do hurricanes or wildfires. But heatwaves result in tens of thousands of deaths yearly across the globe.
"Extreme heat events can be dangerous to health – even fatal. These events result in increased hospital admissions for heat-related illness, as well as cardiovascular and respiratory disorders," warns the U.S. Centers for Disease Control.
Low-income people are especially vulnerable to the impacts of heatwaves. Their neighborhoods are often hotter than wealthier areas and their homes may lack air conditioning.
In Richmond, once students identify heat islands, they recommend low-cost but high-impact measures to reduce the temperature in these hot pockets. Finally, students go back out into the city to implement some of the solutions they've recommended.
Not just an issue of scientific interest, the placement of heat islands in Richmond has a history that connects it to discussions in the news about racial equity.
In the 1930s, the federal government rated the financial risk neighborhoods in cities across the country for real estate investment and mortgages. They graded them "best," "still desirable," "declining" or "hazardous." Race played a defining role: non-white neighborhoods were typically rated "hazardous" and outlined in red, denoting a bad place to invest. Back in 2016, historians at the University of Richmond decided to digitize these maps, and have since noticed undeniable patterns.
A recent study found that redlined areas experienced a difference in temperature upwards of 12 degrees. It noted that redlined neighborhoods remain lower-income and are more likely to have Black or Hispanic residents. Moreover, these areas "consistently have far fewer trees and parks that help cool the air. They also have more paved surfaces, such as asphalt lots or nearby highways, that absorb and radiate heat."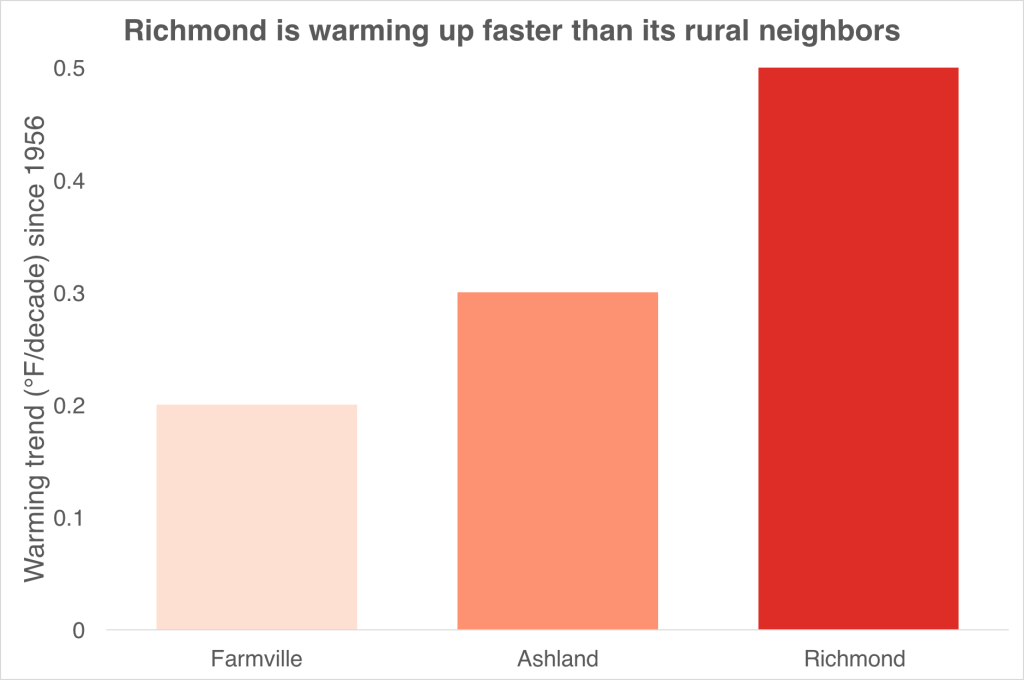 Why Would a Solar Developer Create a Classroom Curriculum?
Since clean energy is our business, it's instinctive that we would want to spread the good word about the many benefits of solar power for customers and communities alike, from saving money to fighting climate change to creating jobs.
A great opportunity presented itself when we started developing solar arrays at colleges, universities, and K-12 school campuses. Teachers and school administrators told us they were eager to help their students learn more about the exciting field of solar power. And students and parents were asking about it too.
So, we paired up with NEED and started making their excellent classroom materials available at no charge to teachers. Since our President and Co-Founder Tony Smith, as well as several of our other colleagues, had a background in education, it was natural for us to build on the NEED offerings. In partnership with NEED and others, we began to develop new educational offerings for our solar customers at schools as well as colleges.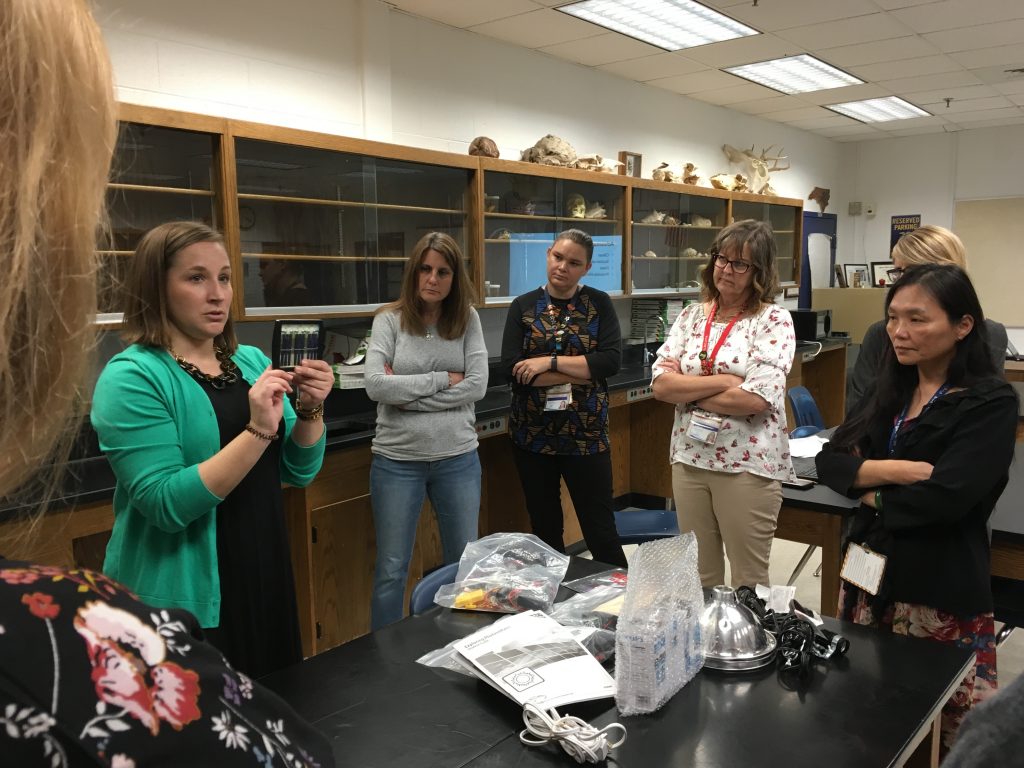 Meantime, in 2017 we became a certified B Corp. This recognized our commitment to a triple-bottom line of business success, positive social impact and environmental protection. This added another dimension to our approach to outreach on clean energy.
We believe getting kids to become more aware of these issues is critical for reversing and correcting environmental inequity. Throwing Solar Shade® is a means to engage with young, evolving minds to encourage curiosity and research in the STEM subjects, specifically climate science and energy. Bringing solar to students is simply our own way of giving back to our community. We hope that with more programs such as these, thought-provoking research will turn into problem-solving initiatives to improve neighborhoods in cities and rural areas alike. 
Meanwhile, we are proud that this unique program has given students the opportunity to go from classrooms to a national (online) stage. We are excited to see how TSS will continue to impact and improve our communities.