Apr 19, 2023
CEO Ryan McAllister Talks to UK's Sky News about Government Support for Clean Energy
Headquartered in London and broadcast to the United Kingdom and beyond, Sky News averages about 50,000 viewers per night during prime time. So it was a big deal this month when the network sent a team down from Washington, DC to interview Secure Solar Futures's CEO Ryan McAllister in front of the solar array of one of our longtime customers, the University of Richmond.
The topic of the TV segment was how the Inflation Reduction Act, passed last year, has already boosted the domestic renewable energy industry in the United States. Should Britain consider passing similar incentives? If not, British companies might be tempted to move to other nations with better support for clean energy, including the US.
From Scotland to Richmond
The piece opens with a visit to the northern coast of Scotland, location of a battery manufacturer in the United Kingdom that is "one of the hidden secrets of UK manufacturing." For more than 30 years, the company has made lithium ion batteries for military applications. Now they're branching out to support civilian clean energy.
But with the US offering new support to battery makers through the IRA, the company, AMTE Energy, may not be able to stay competitive if it remains in Britain, where comparable government incentives are not offered. That's why the company's CEO, Alan Hollis, said that he's reluctantly considering moving production overseas.
"We are a home-grown UK business," he said. "We see ourselves as a UK company. We've developed the technology here. We want to commercialize the technology here and we want to manufacture the product here. But we have to ask the question if the subsidies are available overseas."
The biggest shift in industrial policy in the US in 50 years according to the report, the IRA has made an unprecedented level of support available to new energy technologies made in the US. And in an industry where most batteries, solar panels and other clean energy equipment have come from China for decades, the IRA is already boosting demand for domestic production.
"Across the Atlantic, in Richmond, Virginia, you can feel the impact," says the segment's narrator, Sky News reporter Ed Conway.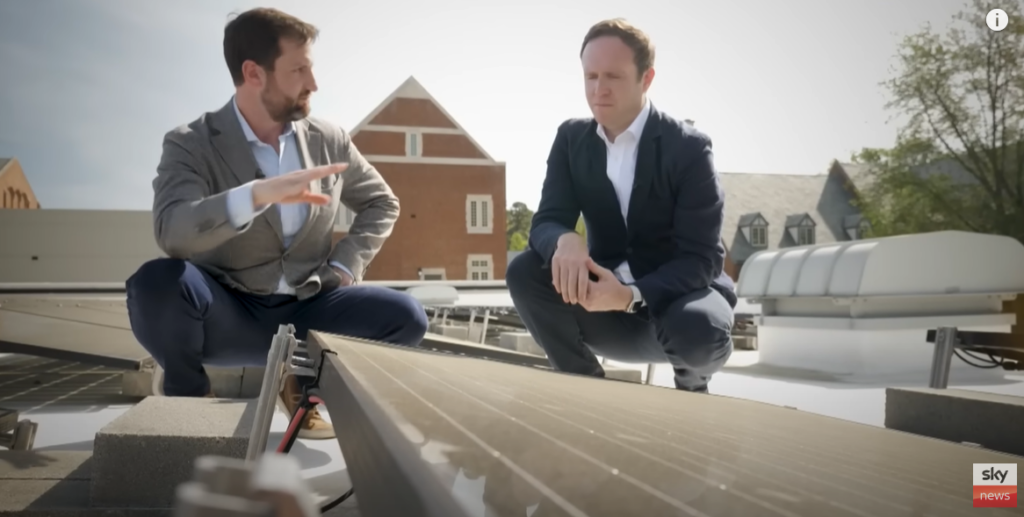 Against the backdrop of the solar array at the Weinstein Center at the University of Richmond, Conway learns that, though Secure Solar has been installing solar arrays like this one for years, in the past few months, everything has changed.
"[We're seeing] a huge uptick in interest from customers looking to install solar. We are at the point of struggling to get solar modules because there is so much interest in projects. We've had roughly a 50% jump in business within the first quarter of this year," McAllister told Conway.
The European Union has also worked with its own clean energy industry to try to incentivize more on-shore manufacturing. But Britain has failed to follow suit.
When Conway asked UK Chancellor of the Exchequer Jeremy Hunt why Britain was falling behind in supporting domestic renewable energy manufacturing, Hunt explained that the current government is suspicious of incentives. "If you depend entirely on subsidies, there's a risk. First of all it's wasteful to spend money subsidizing factories that would have been built anyway and secondly, when you take subsidies away, you can end up with a business that's not viable."
The Sky News report suggests that unless Britain ups its game on government incentives, that UK manufacturers may start to move to other nations that are more friendly to renewable energy, including the US.
The Next Clean Energy Boom Now
Meantime, the IRA may just turn out to represent a historic shift in America's energy story, the time when our country finally got serious about building out clean energy for all. As Ryan said, the growth in interest in solar from the schools, colleges, hospitals and businesses we serve indicates that solar power is in more demand than ever.
But the shortage of equipment for building clean energy facilities remains a real problem. Domestic manufacturing is just getting started up again, and demand continues to outpace supply for solar panels whether from the US or abroad. Fortunately, our company has established relationships with manufacturers that allow us to continue to get high quality solar panels relatively quickly even in today's tight market. That source of supply has enabled us to start new projects now and to complete them faster than other solar companies that have had to delay construction due to supply chain issues.
Overall, to get more clean energy installed, the US needs more makers of solar panels, batteries, and other renewable energy equipment located right here at home. Which is why the support for domestic manufacturing offered by the IRA is more important than ever.