Apr 25, 2022
Get Ready to Apply for $5 Billion in EPA Clean School Bus Funding

Since the air inside a traditional diesel school bus can contain up to 12 times more pollution connected to asthma and cancer in students, switching to electric school buses is a powerful way for schools to protect their students' health. With costs of diesel, gasoline and other fossil fuels spiking, going electric can save money on fuel. Finally, ESBs are much cheaper to maintain than buses with an internal combustion engine.
When you consider that EV school buses also run quieter and handle smoother than traditional fuel buses, it's no wonder that many schools are interested in going electric. But for most schools, finding funding to cover the difference in cost of an ESB over a traditional diesel bus is the biggest hurdle.
That's why everybody is talking about the new Clean School Bus Program created by the Bipartisan Infrastructure Law earlier this year. It will offer $5 billion for clean school buses over the next five years, with half of that targeted to electric buses alone. Awards in the first round of funding will be determined after applications close through a lottery. Winners will receive grants in the form of rebates.
Applications for the first round are expected to open up in just a few days. For schools that may want to apply, here are a couple of useful resources:
EPA Program Website. The funds will be administered by the EPA. This website offers an overview of the new Clean School Bus Program. You can even get on their email list to be notified when applications open: https://www.epa.gov/cleanschoolbus.
Summary of the Program from School Transportation News. According to an official at EPA, the first round of program awards will come as rebates, the application will be open for three months and winners will be selected by lottery. Also: "the EPA will be prioritizing applicants from high-need school districts, tribal schools and those in rural and low-income areas." Read the article: https://stnonline.com/news/epa-webinar-shares-more-details-on-clean-school-bus-rebate-program/.
Get Help from Webinar on May 10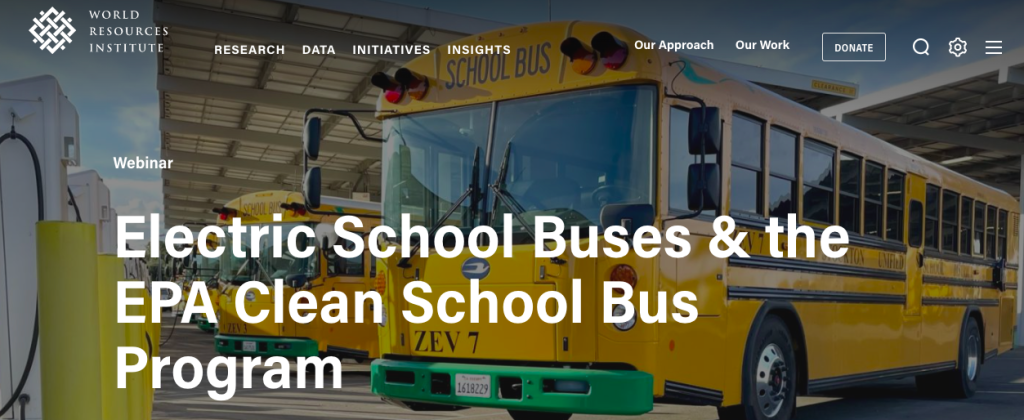 World Resources Institute, one of the best sources of information on electric school bus funding, will hold a webinar to help potential applicants prepare to seek their share of $5 billion for electric and alternative fuel buses.
The webinar, entitled Electric School Buses & the EPA Clean School Bus Program, will take place on Tuesday, May 10 from 1-2pm Eastern time.
Part of WRI's "Getting on Board" series of webinars, May's event will let potential applicants know what to expect to prepare their strongest application for funding. "As the EPA launches its Clean School Bus Program, providing up to $5 billion in funding for electric school buses, this is the moment to bring the benefits of electric school buses to the communities most harmed by air pollution," says WRI's website.
Meanwhile, get a copy of our own free 19-page guide, The Electric School Bus Revolution, through an instant download.