Apr 19, 2017
Innovative Solar Technology at the University of Richmond Presents Opportunities for Campus-Wide Engagement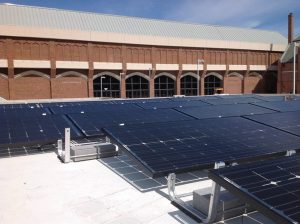 In Spring 2016, Secure Futures installed a 204.8 kW solar array on the campus of the University of Richmond (UR), making it the first application of SolarWorld USA bifacial solar technology in North America. The array is also the first solar installation in Virginia to utilize a Power Purchase Agreement (PPA) under a Dominion Virginia Power pilot program in 2013. Under the PPA, UR purchases energy from the array that is owned and maintained by Secure Futures, at no capital expenditure. The 749 solar panels were installed on a 22,000 square foot portion of the Weinstein Center for Recreation and Wellness, and generate 237,000 kWh of electricity per year – enough to power an entire student residence dorm.
Bifacial Solar Technology – An Innovative Testbed for Increased Efficiency
The incorporation of SolarWorld Americas bifacial solar panels is one of the most exciting aspects of this solar array. Bifacial PV cells, compared to monofacial panels, collect energy on both sides of a solar panel. Thanks to various solar monitoring systems it's been outlined that this innovative technology improves energy capture and efficiency better than the monofacial counterparts.
Bifacial panels tend to include higher upfront costs due to the advanced architecture and manufacturing techniques used. However, depending on a variety of factors, including location and installation design, it is estimated that bifacial PV cells generate 5-30% more energy than monofacial cells. Additionally, bifacial panels offer improved durability which creates benefits during transportation, installation, and extreme weather.
Optimizing bifacial designs can drastically effect performance. One of the most significant factors in energy generation is back side irradiance, which includes a combination of albedo (reflection), as well as distance and angle to the ground. Bifacial designs on light colored surfaces experience a higher amount of albedo, which improves energy generation. The angle and distance to the surface, combined with weather changes throughout the day, produce 18-136% more energy, compared to monofacial panels.
As the first application of SolarWorld USA bifacial solar technology in North America, the University of Richmond array provides an in-situ testbed for the economic value and energy production of new solar technology.
Incorporating solar technology into the Curriculum
The solar array at the University of Richmond represents the University's ongoing commitment to sustainability, utilizing advanced technology to improve energy capture, and serving as a research lab for its students and faculty. With over 64 different classes incorporating sustainability across campus, the solar array provides a tangible resource for UR course curriculum.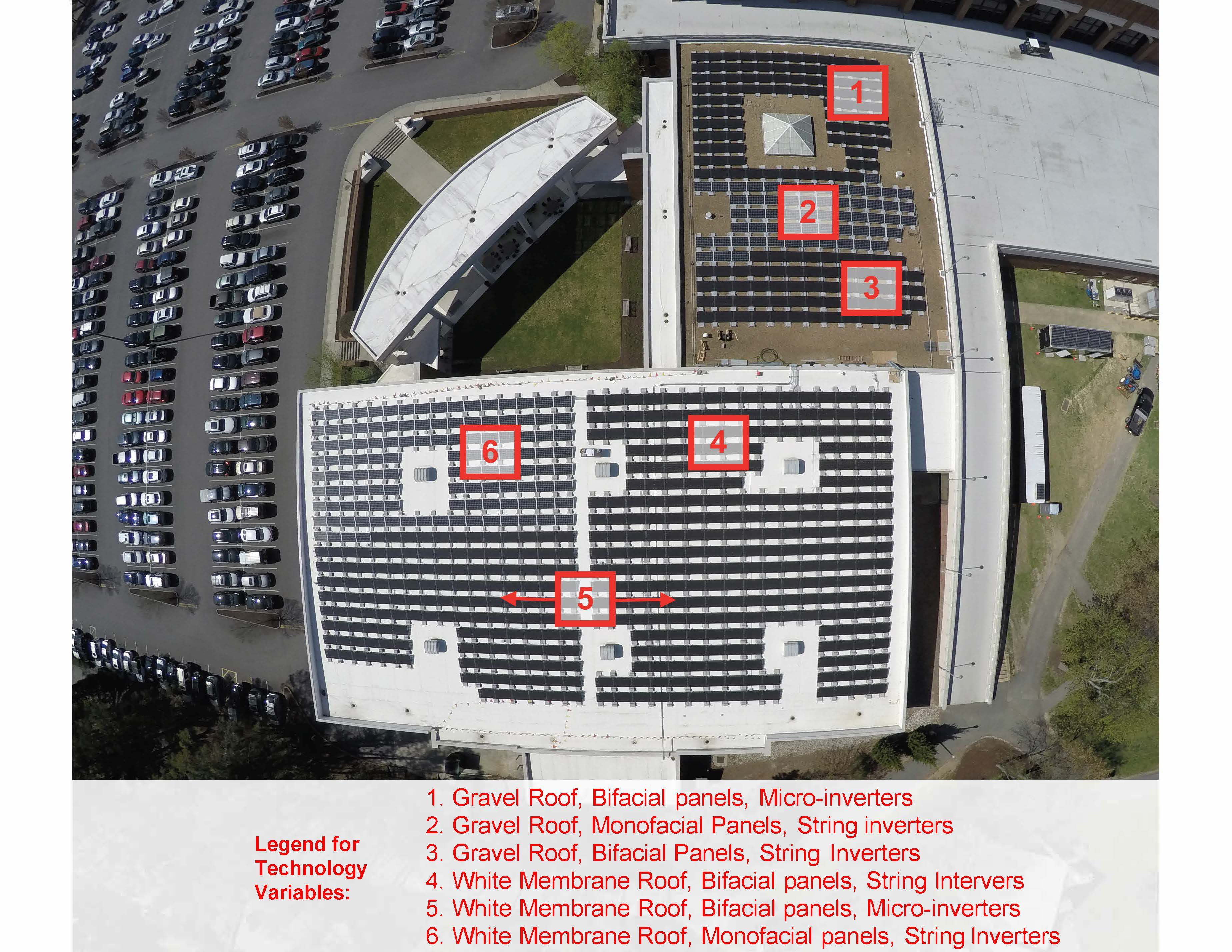 Lending itself to a variety of learning opportunities for students in multiple disciplines and departments, the array has several test conditions, including two surface types (gravel and white membrane), two solar panel types (monofacial and bifacial), and two inverter technologies (micro inverters and string inverters). Combined, these six variables allow student and faculty researchers to analyze which combination of technology is most efficient. Furthermore, students at the Robins School of Business have the opportunity to analyze the financial benefits of renewable energy by comparing installation costs and energy bill reduction. This research will provide valuable data to the University of Richmond in its assessment of the cost effectiveness of the solar technology on its campus.
Secure Futures is excited to support the University in achieving its sustainability goals. As part of its suite of value-added solar services, Secure Futures installed a video kiosk which displays real-time energy statistics to students, faculty, staff and community members inside of the Weinstein Center for Recreation and Wellness. This video provides summary data to those who pass the solar array before entering the Rec Center via digital kiosk systems similar to this kassensysteme.
Additionally, the solar array provides educational tools and involvement for the Office for Sustainability and student-run sustainability organizations. In February 2017, the UR Office for Sustainability installed two display signs next to the solar array that outline the benefits of solar renewable energy, bifacial technology, and energy generation. They are visible to those entering the Robins Basketball Stadium's South entrance. The solar array proves to be an educational resource for all members of the University of Richmond community.
Solar Footprint in the Community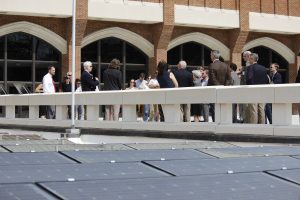 In addition to the economic and educational opportunity the solar array at UR provides, on April 5th the University served as host-sponsor for an event put on by the Virginia Renewable Energy Alliance (VA-REA), titled "Assessment of New Business Models for Renewable Energy Development". This half-day event considered the pros and cons of innovative financing mechanisms for renewable energy development in Virginia, and featured a tour of the UR solar array, providing an opportunity for students, faculty and professionals to learn about innovative solar technology both on the Campus of UR and across Virginia. Furthermore, it provided an opportunity for these groups to learn, network, an collaborate in a new environment.
About the author: Zoe Kolberg-Shuler is a junior Business Administration major at the University of Richmond. She has been working with Secure Futures since January 2017, where she serves as marketing intern.