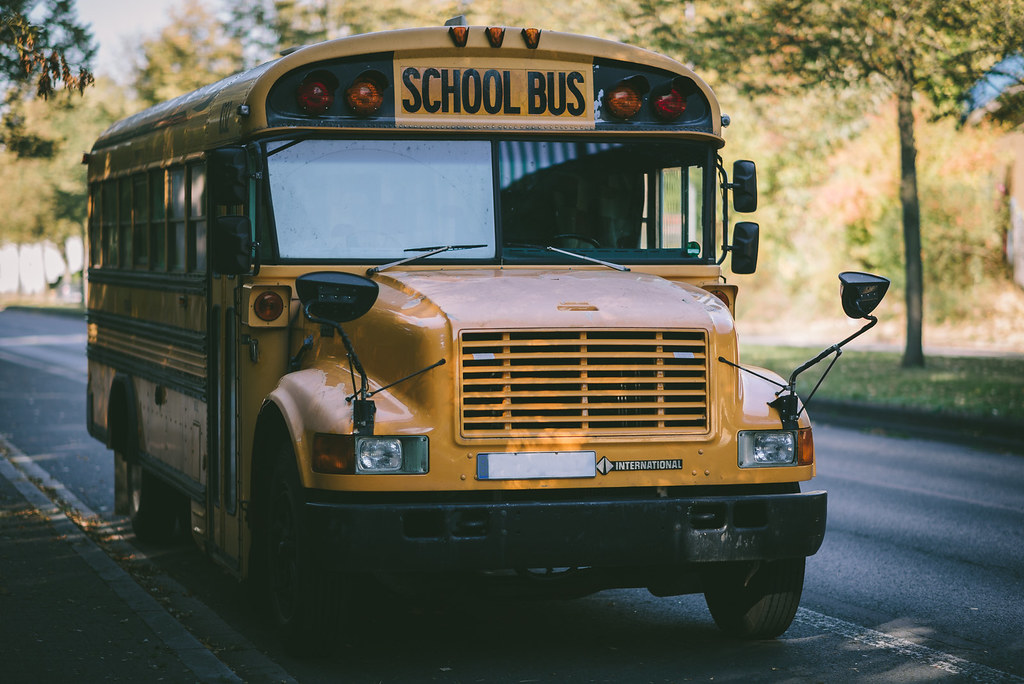 Learn How Your School Can Join the EV School Bus Revolution
Each day millions of school children sit on diesel school buses breathing in toxic diesel exhaust. The exhaust can exacerbate asthma, cause lung damage, and has even been linked to elevated cancer risk. Studies have shown that children sitting on a school bus are exposed to four times the level of diesel fumes as the people sitting in the car in front of them.
Luckily, there is increasingly an alternative to dirty, diesel buses: EV school buses. Converting the traditional yellow school bus into a sleek electric ride is healthier for kids. Electric buses are also quieter and cleaner for the communities they serve, which is one reason why both students and bus drivers love them. Further, EV school buses can serve as mobile batteries through vehicle-to-grid technology, offering schools increased resiliency and potentially another source of income from selling power into the electric grid.
With all this in mind, it's not surprising that there is an increasing call across Virginia from parents, students, teachers, community leaders and even bus drivers themselves for school divisions to transition to all-electric bus fleets.
Many school divisions are now wondering how they can start converting their bus fleets to all-electric. But a couple of challenges stand in the way — and they're both about cost.
First is the cost of buses and chargers. Electric buses can cost three times as much as diesel buses and charging equipment can add thousands more in upfront cost. Fortunately, grants to buy electric buses along with alternate financing to get buses on a subscription model with no upfront cost are now making it more affordable for schools to transition to EV fleets.
The second cost challenge is the expense of additional electricity. By going electric, you'll cut your use of diesel fuel, but you'll increase your demand for electricity, which can mean much higher power bills.
That's where solar power comes in. By generating their own solar electricity on campus, schools can cover some or all of the additional power they'll need to run their new electric buses. And for a school with solar panels, when the buses aren't needed to pick up kids during summer break, the batteries inside those buses can soak up the extra solar power and then sell it back to the grid when it's needed the most, on hot days when everybody is running their air conditioners. This is called vehicle-to-grid (V2G) technology and it's one of the most exciting developments in energy today. Experts predict that V2G will transform America's energy system in the future.
As a bonus, schools can increase the environmental and health benefits of electrifying their bus fleets by pairing EV buses with onsite solar. Do you want to run your clean new buses off of old-fashioned dirty energy from the grid? To get the full environmental benefit, electric buses should plug into clean electricity. And no power is more eco-friendly than solar power that you generate right on site.
If you're an education professional planning to attend the 2021 Virginia School Board Association Convention in Williamsburg from November 17 to November 19, we invite you to our Lunch and Learn Panel on Thursday, November 18 at 12:45 to hear discussion on these questions, including:
Why transition to electric?
How long will it take?
How does electric compare to alternatives such as propane?
How can schools fund electric school buses and associated infrastructure?
And lastly, why electric buses should be paired with on-site clean energy and battery storage and how to do it right.
An Expert Panel of K-12 Colleagues and Partners
We are pleased that we were able to secure some of the most experienced and knowledgable experts on EV buses and solar power for schools in Virginia and nationwide to speak on our panel.
Elizabeth Doerr, School Board member, Richmond Public Schools
Elizabeth Doerr serves as School Board Representative for the First District of the City of Richmond, where she helped lead the effort for Richmond Public Schools to install solar energy systems on several campuses. She also co-founded Sandbox, a Richmond-based management consulting firm, where she helps the Richmond community's entrepreneurs launch and grow their ventures. She will share her perspective on Richmond Public Schools recent efforts to implement a program for electric school buses.
Dr. Eric Bond, Superintendent, Augusta County Schools
Dr. Eric Bond has served as Superintendent of Augusta County Schools for 7 years. Under his leadership, Augusta County installed solar energy systems at multiple campuses, the largest amount of solar power on site at any school division in Virginia at the time. He also oversaw the introduction of the "Throwing Solar Shade" classroom curriculum in Augusta County Schools. Dr. Bond will be able to share a superintendent's perspective on going solar, as well as his experience in acquiring electric buses.
Tish Tablan, Project Manager, Generation180
Tish Tablan serves as Program Director for Generation 180, a non-profit organization working to inspire and equip people to take action on clean energy. For the past two decades, she has been working within nonprofit, public, and private sectors to inspire sustainable solutions to complex environmental challenges.
Rich DiMatteo, EVP Capital Markets, Highland Electric Fleets
At Highland Electric Fleets, a national provider of EV school bus financing and services, Rich DiMatteo arranges innovative financing structures for fleet electrification projects on behalf of school districts looking to convert their vehicles to electric. He will offer valuable information on the various ways schools can take their fleets electric.
Ryan McAllister, CEO, Secure Futures LLC
Ryan joined Secure Futures in 2019 and currently serves as the CEO. He brings over ten years' experience in education, banking and renewable energy. Additionally, he spent two years serving as a Peace Corps volunteer in Mauritania and Rwanda. Ryan holds a Bachelor's degree in History from Penn State University and a master's degree in Economics from the University of London SOAS.
If you'll be at VSBA, please join us for an informative session with presentations and discussion on one of the hottest topics in K-12 education today.