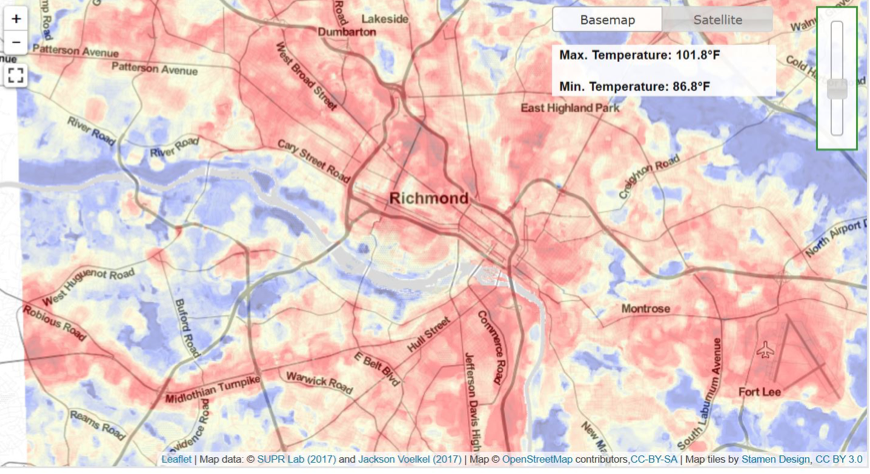 Students Honored by U.S. Department of Energy
Four students who participated in the Throwing Solar Shade® program were asked to give presentations sponsored by the U.S. Department of Energy Solar Decathlon® on December 16, 2020.
In the Fall of 2019, in conjunction with the Science Museum of Virginia and the National Energy Education Development program, we launched an innovative educational program with pilots at two K-12 school divisions in Virginia, Richmond Public Schools and Augusta County Schools.
Throwing Solar Shade® builds on the work of Science Museum Chief Scientist Jeremy Hoffman, PhD, to study and mitigate the urban heat-island effect in the city of Richmond, called Throwing Shade RVA.
The new program offers opportunities to practice citizen science to high school students from across Virginia in a hands-on initiative to reduce surface temperatures in local communities.
The Throwing Solar Shade 10-week program enabled over 40 high school students to enhance their STEM learning and increase their 5 C's (communication, citizenship, critical thinking, collaboration, and creativity) won rave reviews from students, teachers, and school administrators for the quality of program, as attested by a third-party evaluation team from Virginia Commonwealth University.

Elizabeth Walker Green, Virginia State Director, U.S. Department of Agriculture Office of Rural Development
NEED and SMV provided a curriculum compliant with Virginia Standards of Learning and trained teachers in its use.
Under those teachers' direction, students worked in project-based teams to research local issues and possible solutions for potential risks related to heat islands, climate, and the benefits of solar energy.
I can verify that Throwing Solar Shade is the most innovative, applicable, and exciting curriculum I have seen to engage students in clean energy, climate science, and related topics.

Tish Tablan, Program Director, Generation180
Learn More