Nov 30, 2020
[Video] Solar Energy Powers American Food Security
We've heard about the grocery store employees who have risked their health as "essential workers" during the quarantine period to make sure that Americans' kitchens remain stocked at a time when many more families are eating at home.
The dedicated people who unload delivery trucks, stock grocery store shelves, and help in checking out deserve everybody's gratitude in these difficult times.
People who deliver groceries or restaurant meals to homes have also offered an essential service to Americans who are trying to observe the quarantine. Since the outbreak of the pandemic, there has been a significant increase in online grocery shopping. A Brick Meets Click/Shopper Kit survey found that 46 percent of shoppers plan to continue purchasing groceries online.
But we haven't heard much about other heroes of our food system, who labor tirelessly behind the scenes to keep food moving from producers to retailers and consumers.
Food Delivery: the Unsung Heroes of the Pandemic Era
In 2019, Secure Futures installed 1.6 megawatts of solar panels on rooftops of four warehouse locations that are owned and operated by the InterChange Group.
InterChange provides a crucial service in the modern logistics network that moves food from farms and dairies to grocery stores. Moving food quickly and efficiently from where it's made to where it's needed reduces potential shortages. This is especially important in a time like the current pandemic when suppliers may be constrained to meet customer demand.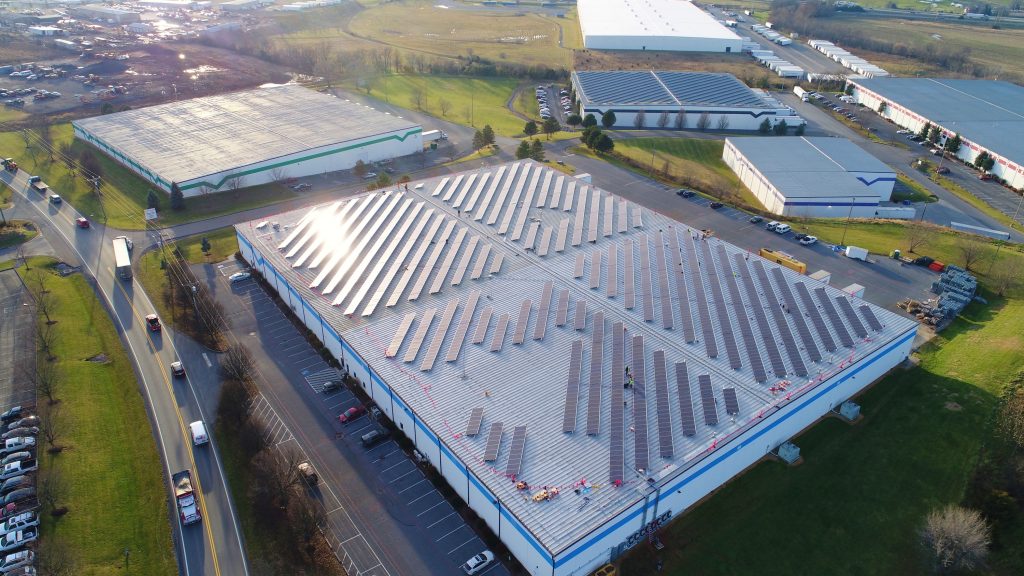 Based in Harrisonburg, Virginia, the company is a regional third-party logistics provider. That means they offer refrigerated and frozen storage to food and beverage companies doing business in the mid-Atlantic area. One of their major customers is Danone. They are an international food company that sells such well-known brands as Dannon Yogurt and Silk Soy Milk.
Cold storage is an especially important service in the region where InterChange has been based for three decades. The Shenandoah Valley of Virginia is one of the East Coast's leading producers of meat and dairy products.
After World War II, the use of refrigerators has been widespread. Americans have since become accustomed to buy meat, dairy products and fresh produce at the store cooled or frozen.
For the last half century, cold storage warehouses like those run by InterChange have taken the lead as a critical link in maintaining the logistics industry's "cold chain" as food is handed off by truck from producers and manufacturers to distributors and retailers.
How Solar Energy Helps Cold Storage
Recent years have seen a healthy increase in demand for cold storage as the food industry has expanded. Meeting demand head-on even before the outbreak, InterChange decided to invest in new means to run their facility. Energy can take up 10% or more of the revenues of a cold storage warehouse, second only to labor costs. With electricity costs typically accounting for 70% of the total energy bill, InterChange looked towards solar energy.
The company's own customers among food and beverage producers appreciate that InterChange is making their operations more eco-friendly too. For example, Danone North America has committed to use 100% clean energy, and InterChange's solar will help.
And then came Covid-19. The pandemic has truly tested everyone's ability to pivot, and the cold storage warehouse industry has accepted the challenge. InterChange is already planning new expansion projects to offer even more cold storage.
The current solar energy systems at four locations in InterChange's network of cold storage warehouses feature a total of 4,698 solar panels that offset 45% of electric power used by all four sites combined. Over a year, that is the same amount as the electricity used in 288 homes. And avoids more than 1400 tons of carbon dioxide pollution per year.
Happy with its first round of solar projects, InterChange is now in the middle of a second round of solar. The video at the top of this post features InterChange CEO Kevin Longenecker. He explains how the company's experience with solar power has been so far. Sold on solar, the company wants to generate even more solar power right on site in the future.
Secure Futures produced this video for their annual Solar User Group, an informative meeting for our current and potential customers. Each year, a different Secure Futures customer hosts the meeting. We are thankful for InterChange virtually hosting this year's event.
New Benefit of Solar Energy: Solar Shade on a Hot Roof
Fun fact: InterChange is one of a select group of Secure Futures's customers participating in a study to determine whether the shade from solar panels helps cool down the temperature of the roof on which they are installed.
Anybody who's ever sought refuge from the sun on a hot day knows that shade can make you feel much cooler. Research shows that direct sun can make surface temperatures feel hotter by 10 or 15 degrees Fahrenheit or more.
Students in our Throwing Solar Shade® program studied InterChange's roof temperatures to determine if the shade provided by solar panels installed on a building's rooftop translates into cooler temperatures both on the roof's surface and, more importantly, inside the building itself.
The data found through thermal imaging was astonishing. Black roofs shaded by solar panels were 22 degrees cooler during the day, and metal roofs were 24-31 degrees cooler.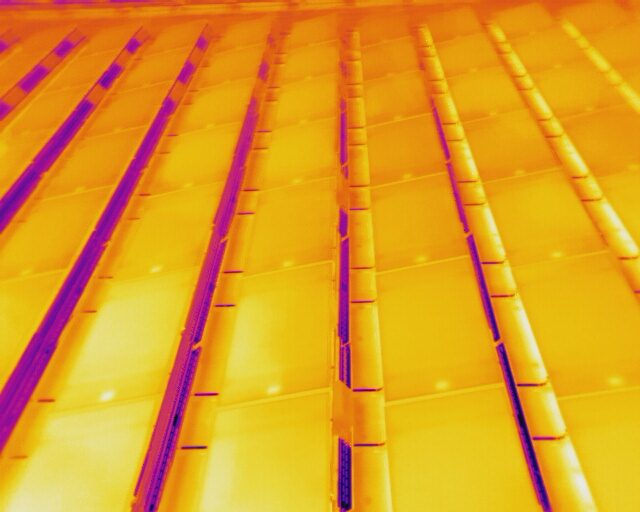 The shading from solar panels reduces the need for air conditioning on hot days. And that's just one more way that solar power helps companies save money.
The data will keep coming in, and we'll share the results as we get them. Meantime, one thing we know for sure. For companies that use a lot of electricity to keep their spaces cool, as a cold storage warehouse does, producing their own solar power on site can help them cut their utility bill by replacing more expensive utility power.
And if the owner of a cold-storage warehouse or other commercial building pays more for grid power based on the time of day or the peak of their monthly demand, then solar can offer even more savings.