Aug 25, 2022
Secretary of Energy Granholm and VA Sen. Kaine Tour Historic Secure Futures Solar Project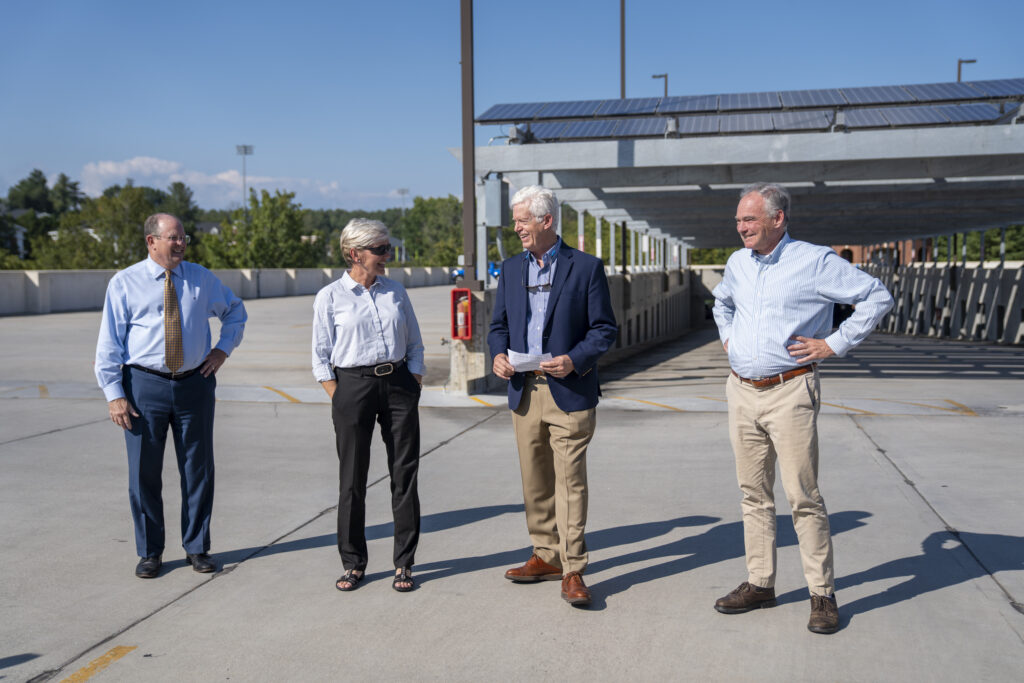 "Virginia has in the solar space gone from one of the worst in the country to now top 10 in the amount of solar," said Virginia's U.S. Senator Tim Kaine during a visit on August 23, 2022 to the solar parking deck canopy at Washington and Lee University in Lexington.
Kaine and U.S. Secretary of Energy Jennifer Granholm visited the W&L solar canopy to showcase the legislative intent of the Inflation Reduction Act, passed by Congress and signed into law by President Biden earlier this month.
"Climate change for us is not a tomorrow issue, it's a today issue," Kaine said. "That's why it's so exciting that Virginia which was one of the worst states in the country in terms of policy on clean energy … now with both solar and offshore wind which will also be dramatically accelerated by the Inflation Reduction Act."
The solar canopy, along with another array on the rooftop of Lewis Hall, W&L's law school, adds up to a total solar project of 444 kilowatts — when it was completed in 2011, the largest solar project in the state of Virginia. It's an example of the kind of solar project that the IRA is meant to encourage.
Though the project was completed more than a decade ago, the W&L solar energy system was installed by local contractors paying market wages or higher and using American-made equipment, all of which are now encouraged by the Inflation Reduction Act.
"We're going to bring back manufacturing. This energy sector is going to be worth $23 Trillion by 2030. So we're not going to allow all these other countries to take it. We're going to give opportunity to our businesses," Granholm said.
We were excited to tour @SecGranholm and Senator @timkaine around the solar project at @wlunews. The Inflation Reduction Act will supercharge solar projects like this with local suppliers using American-made equipment and paying good wages. #Solar https://t.co/Gk2eeeuV23

— Secure Futures Solar (@secfuturesolar) August 25, 2022
Joining Kaine and Granholm at the event was Tony Smith, Secure Futures President and Co-founder. Smith shared some of the history of the W&L project and its significance for helping Virginia to emerge as a top solar state, as Senator Kaine mentioned.
"With all due modesty, we were ahead of our time in Virginia when we built this project in 2011. At 444 kilowatts, it was the largest solar project of any kind in Virginia at the time. Not just commercial scale, but any scale. Just let that sink in. By comparison, Dominion's largest solar array was 7 kilowatts in Halifax County," Smith said.
He continued to relate the dramatic story of how the solar project was almost stopped:
The W&L project brought another innovation. It introduced the first solar power purchase agreement to the service area of Dominion Energy. In response, Dominion reciprocated by sending us not one but two cease-and-desist letters, threatening to shut down the project. But with W&L's flexibility, we persisted by nimbly converting the PPA into a lease so we could complete the project on time, and the rest is history.
"This project signaled the beginning of the end of the dark state and the dawn of the renewable age of Virginia," Smith concluded.
So far, the event has been covered by two TV stations in Roanoke:
U.S. Secretary of Energy and Sen. Kaine visit SWVA to talk clean energy, WDBJ TV-7 Roanoke, VA, August 24, 2022.
U.S. Secretary of Energy, Senator discuss Inflation Reduction Act in Troutville, Lexington, WSLS TV-10 Roanoke, VA, August 24, 2022.
View photos from the event below all taken by W&L photographer Shelby Mack.