Jul 21, 2020
Mennonites Lead in One of Virginia's Most Solar-Rich Small Cities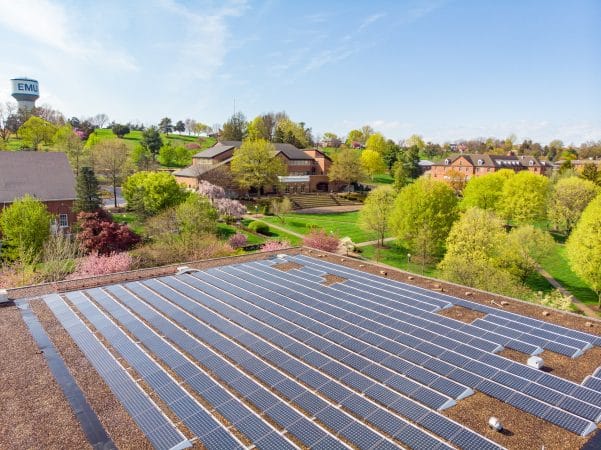 Harrisonburg Went Solar Early — and It's Still Going Solar in a Big Way
With a population of about 50,000, Harrisonburg is not one of Virginia's largest cities. Places like Virginia Beach, Northern Virginia or Richmond have a lot more people. But when it comes to solar power, Harrisonburg is a giant in the Old Dominion state.
This college town, home to both James Madison University, a large state university, and the smaller, private Eastern Mennonite University, was an early leader in building solar arrays.
In 2011, the smaller of the two schools, Eastern Mennonite University, made solar history by putting up 104 kilowatts of solar panels on the roof of its library. At the time it was built, this was the largest solar power system in the whole state Virginia.
Inspired by EMU's example, businesses and homeowners in Harrisonburg started going solar too. So many solar panels were installed that, for a few years, the small city boasted more solar power per capita than any place in Virginia.
Today, Harrisonburg is still a solar leader. "Harrisonburg was the first city in Virginia to surpass 1% solar capacity (from net metering) on their local grid," said Jeff Heie, a clean energy activist in Harrisonburg for the last decade. "This milestone occurred in December of 2019."
Much of the credit for Harrisonburg's solar revolution goes to the city's eco-aware Mennonite community. After EMU installed its solar array in 2011, the Mennonite-run Gift and Thrift resale store put up 113 kilowatts of solar power in 2016. Two years later in 2018, EMU put up another smaller solar array.
Interestingly, both the systems at the Gift and Thrift store and the second system at the Mennonite university EMU were installed through an innovative process called a "solar barn raising." In this cooperative effort, under the supervision of trained solar professionals, members of the community come together in a one- or two-day event to help install solar panels themselves. A barn raising reduces the cost of a solar installation to a non-profit school or organization while offering a fun chance for a group's stakeholders to see what it's like to be a solar installer.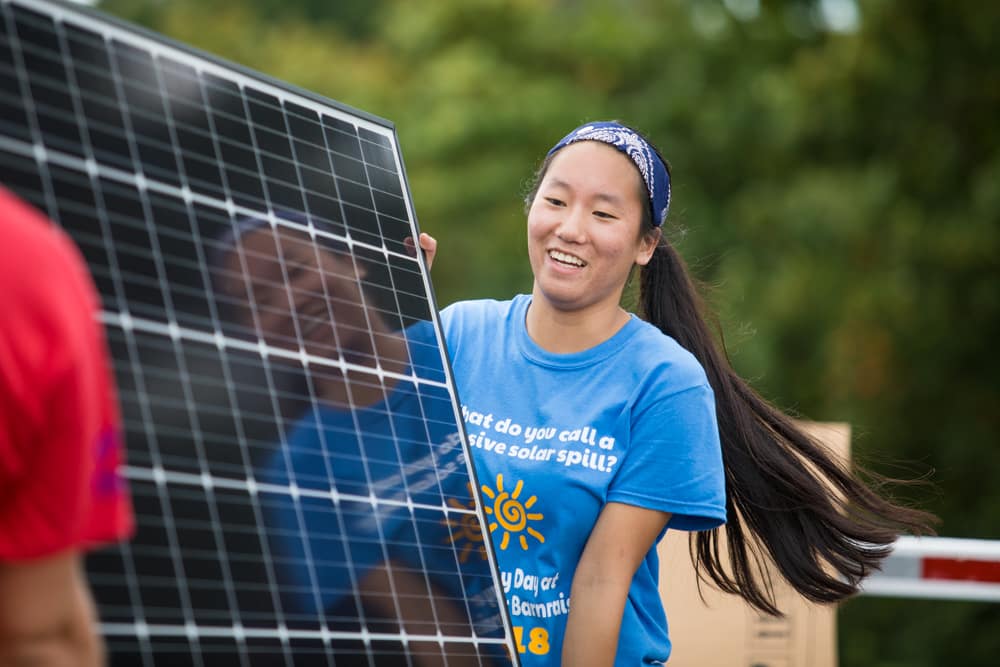 And now, yet another Mennonite institution in Harrisonburg has decided to ride the solar wave. This year, Eastern Mennonite School will install a solar power system even larger than ones at EMU or Gift and Thrift. In fact, with a capacity of 136 kilowatts, the EMS system will be the largest at any K-12 school in Harrisonburg.
Secure Futures is developing and financing the EMS system, which is scheduled for completion by the fall of 2020.
Through Secure Futures' Solar Self-Generation Agreement (Solar SGA®) there are no upfront or maintenance costs for the 20-year contract. This arrangement will provide the school with clean energy at lower costs than electricity supplied by the Harrisonburg Electric Commission, the local utility power provider.
EMS will be installing 136 kilowatts of solar panels on its campus rooftops. The solar power system will generate enough electricity to meet 30% of the school's energy needs. At this size, it will be the largest solar power system at any K-12 school in its solar-friendly city.
Once the solar system goes online, EMS will produce enough clean energy to power 15 average sized homes. By running the school with clean energy, the solar project will allow EMS to prevent the release of more than 141 tons of carbon dioxide pollution each year.
Not Just Money Savings and Eco Benefits but Education Too
Along with solar energy services, Secure Futures will provide the school with lesson plans and materials to students and faculty from National Energy Education Development (NEED). Through NEED, teachers can take solar energy workshops to add hands-own, clean energy curriculum into their classrooms.
"We are thrilled to be able to get this project up and running," said Paul Leaman, head of school for EMS. "Young people need to see and experience the power and economics of renewable energies so they can become change agents away from the pollutants and nonrenewable fossil fuels."
"Eastern Mennonite School is stepping up as the leader among K-12 schools in Harrisonburg," said Anthony Smith, CEO and Founder of Secure Futures. "Their intention to save money, help the environment, integrate rooftop solar lessons into the classroom, and engage with the community demonstrates how schools can harness solar power to support their mission and save resources."
EMS is taking a leap that will not only impact Harrisonburg and their solar capacity – it will also affect the way students across the area see solar power as not just a form of clean energy but as a potential career path.
Make This Your Year to Go Solar
Find out what it would take for your college, school, hospital or business to get solar on-site with no upfront capital investment and money savings every month.